Why Sharpening your business English Skills Matters?
Sharpening your business English skills will help you getting rid of stress and anxiety when communicating with your customers, partners and colleagues internationally. You will become more confident and more efficient and you will enjoy:
30 Days No-Nonsense Money-Back Guarantee
Benefit Financially
Research has shown that income increased with improved business English, and thus also the quality of life. Business English has a big influence on financial competitiveness and innovation.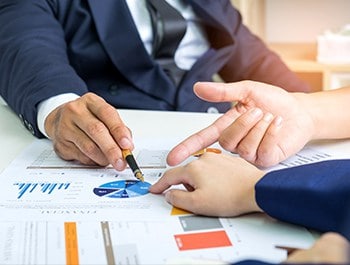 Better Relationships
Quality business communication and excellent conversations skills are the foundations of building lasting relationships with others, and is the centre of good business.
How can we help you?
Contact us should you have any questions.
Intermediate Business English Course
Use coupon code WPC8V3NH when you proceed to the Checkout to receive your €100 discount (Click on the image below to enrol)
The Business English Intermediate B1-B2 course come in the form of 40 individual lessons. The course in on the "LeanDash" learning management system and you will require a computer, tablet or smartphone with internet. 
Lessons and quizzes are done online but assignments can be done offline and then uploaded. Pictures, audios and videos can be submitted after converted to the accepted file formats (mp3, mp4, jpeg, jpg, png,). All other software required can be downloaded free. (PDF reader, Open Document Software).
The course covers vocabulary, phrases, etc. to help you in various business situations such as introducing yourself (whether to new colleagues or in a job interview), writing clear and effective emails and reports, relationships in the business world, effective partaking in meetings (overcoming your stress and anxiety), speaking and keeping conversations going, and more.